In July 2020, the EMEN project launched a call to identify migrant-led programmes that support migrant entrepreneurs to set up and develop their business. The three winners of this call have been invited to be speakers of the "Migrants know better what to do session":
Finally VC at a glance!
Countries where it is implemented
Western Europe
Starting date
2020
In which field does it support ME
Access to finance
Summary
Finally VC is an initiative aiming at offering venture capital to "underestimated" founders developing tech-enabled impact start-ups, reinventing the future of health, work and sustainability in a post-pandemic world. It was created by some of Included.VC fellows. After one-year of VC training, seven fellows from the cohort decided to apply to the Silicon Valley-based Founders institute VC labs, being accepted to its accelerator program.
Now Finally VC is launching a €5 million pre-seed fund for West European ventures, funding diverse founders that empirically perform better. They aim to achieve outlier returns by backing outlier founders who are underrepresented, undercapitalized, and targeting underserved markets. They secure deal flow using their backgrounds as founders with diversity in race, gender, sexuality, nationality, socioeconomic background, and immigrant-refugee experience.
Why is it a good practice?
Finally VC brings diversity into the VC industry, a sector highly difficult to reach for minority, vulnerable or underrepresented groups. The funding also aims at addressing societal problems that diverse entrepreneurs are better positioned to identify and tackle in comparison with more conventional backgrounds.
Finally VC more in-depth: access to finance for "underestimated" founders. Solving complex socio-economic issues Europe is facing in the aftermath of changing demographics and Covid-19 pandemics.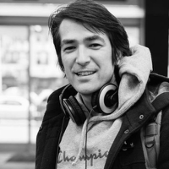 After a life-changing experience of a year VC fellowship with Included VC, Yama Saraj had not only learned about the VC industry and its dynamics but had also deepened his understanding of entrepreneurship itself.
He states that before this fellowship, Venture Capital seemed so unreachable to him that it almost had mythical status. Being from an underrepresented community, to make it as a start-up founder is tough, not only you lack the social capital, also everyone doubts your credibility disproportionally. Getting access to resources and funding can be even harder. Nevertheless, Yama wanted to break through with his start-up to bring dignity and honour to his war-torn Afghan community.
Yama and his colleagues decided to launch a VC fund called, Finally VC. The reason is that venture capital is shockingly uneven distributed:
Of all the founders that raised funding in 2019 in Europe, 0.5% identified as Black, 1.4% Middle Eastern & 4.1% as Asian.
In 2018, less than 1% of VC funding raised by European start-ups went to all female-founded companies.
"The honest truth is, I never wanted to be in Venture Capital or even become an entrepreneur. I wanted to devote my life to poverty elevation in developing countries and improve socio-economic position of migrants and refugees like myself. The shame and humiliation of being a refugee, losing your social standing, dignity, and honour always drive me to think of how can we get ourselves out of this situation.
As an economist, I am very interested in migration & development topics as we experienced this ourselves. In the 42 years of war, Afghanistan had produced 10 million refugees and most likely suffered a huge brain drain. For example, my mother was a professor in veterinary and my dad was an engineer.
We found a safe refuge in the Netherlands in 1998, when I was just 12. For which we are very grateful. Yet I would grow up questioning my place in this new society, my identity and belonging. Because of this, in 2010 I went back to Afghanistan (driving 8000 km along the former silk road) to look for my roots, identity, and understanding the root cause of why we became refugees in the first place. I realised the big contrast of the worlds I am in between. On one hand, I see the extreme poverty and underdevelopment of my father's village Taghai Khowja, Saripol province in the North of Afghanistan, and on the other hand, I am in this rich and technologically sophisticated city, Eindhoven, where I grew up and that I call home now.
Working briefly in Kosovo, DR Congo and Afghanistan with development assistance, I realised the importance of private sector development and the higher educated diaspora's as a catalyst for positive change through entrepreneurship. Beyond advocacy link, lecturing and consulting, I always felt I should do something concrete myself, lead with example.
Passionate about boxing, I wanted to leverage on the bonding and healing power of sports and emerging technologies to make a positive impact, not only in my country of origin but also here in Europe. We also have much inequality and social issues with migrants. As Nelson Mandela stated "Sport has the power to change the world. It has the power to inspire. It has the power to unite people in a way that little else does.
That is why I started this start-up called SensAi teaser, a personalised data-driven boxing with a coaching solution. The concept is to recycling car tires and make a punching bag out of them with the aim to make boxing safe and fun and through it, to help people develop their mental and physical resilience (see pitch deck and a Prototype). In Eindhoven, I couldn't find support for such initiative, the networks in Eindhoven are very much tight-knit, they even have a saying about this philosophy "ons kent ons", meaning us to know us. Not the most inclusive and diverse place to do a start-up, I can tell.
I got by some chance in Paris for a conference on tech-4-good and run into the former Greece Prime Minister George Papandreou's about people like myself and investing in refugees (see the link).
Station F is the French flagship start-up campus, set up by the tech billionaire Xavier Niel. They have a strong focus on diversity and inclusivity. For example, the directress, Roxanne Varza is French-American with roots from Iran. When they heard about my story, I got immediately invited at Station F for one-year support for my start-up. It has been a great experience so far and many doors opened up for me, which would have never been possible in Eindhoven.
Through this process, I realised also how hard it is for people of colour, women, and underrepresented communities to get access to resources. Running a start-up is not easy, not for anyone, most probably 90% of start-ups will fail within the first year. Yet people of colour/women and people with a refugee background have many more challenges. First of all, society has such low expectation patterns of you and has the urge to pro-actively project this. Many succumb to this pressure, settle down with less ambitious things, and will never fully develop their potential. People disproportionately doubt your credibility. Also, there is a lack of role models, people you can identify with to gain confidence.
That's why I think there is a need for initiatives to help the tech innovation ecosystem more inclusive and receptive to newcomers.
I went through 1 year Included.VC fellowship and learn very much about the VC industry and about "cognitive bias" and other diversity issues.
With 6 other fellows, we are now on a mission to set up our own VC fund www.finally.vc. We have been accepted in the Silicon Valley-based Founders institute accelerator program for VC's.
We are now in the process of narrating our stories, developing our team, writing our investment thesis and mobilising their networks and chasing limited partners who believe in our cause. We believe we have a strong diverse team, extremely motivated and plugged into some of the most dynamics ecosystem such as STATION F, University of Oxford, SLUSH or #SHE_BUILDS. We can source deals from underrepresented communities that are overlooked and underestimated.
Our strategy is to source the best deals from underestimated underrepresented founders. Invest small ticket sizes and trigger herding behaviour with another VC's to co-invest. Aside from giving access to funding, we aim to have a strong added value and mobilise a strong support network to make our portfolio succeed."