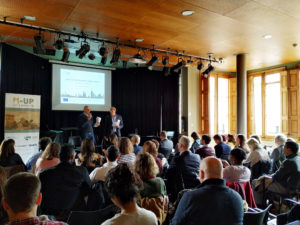 Last 3rd and 4th of April, EMEN partners AEIDL, DIESIS and THUAS FINE participated in the M-UP and MAGNET joint conference in Barcelona entitled "Migrant entrepreneurship support in Practice – Access to finance". M-UP and MAGNET are two of the other 3 projects financed by the same COSME call as EMEN. They decided to partner up and do a joint conference on access to finance for migrant entrepreneurs in the spirit of looking for synergies and avoid overlap.
During the 2-days conference we had the chance to listen to experts who talked about the projects and the tools that exist in this field, to hear presentations of migrants who have created their own business in the EU and to participate to very interesting workshops related to the topic. For instance in Day 1, during the story telling by migrants entrepreneurs, Natasha Mayerhofer, a Brazilian women who lives now in Barcelona, told us how she is planning to open a coffee house for mothers and their children. As another example, in Day 2, during the workshop time, different associations, not only based in Barcelona but also abroad, shared with us their experiences in access to finance for migrants entrepreneurs.
As leader of the EMEN Community of Practice on Access to Finance, Klaas Molenaar was one of the keynote speakers presenting current understandings and blind spots in our knowledge about access to finance for migrant entrepreneurs. After that moment of reflection, Mr. Molenaar facilitated a workshop on different FinTech solutions which might leverage the raise of funds for migrant entrepreneurs who are traditionally excluded from the traditional banking and financial institutions systems.
The conference in Barcelona was also an opportunity for the 3 Consortia to get together to better understand how the 3 projects can further collaborate throughout the projects' remaining duration and beyond it.